ConvertBox links are a powerful feature which allows you to trigger a ConvertBox from any link on your page by simply adding a unique code to your link.
Using a ConvertBox link in your page content will almost always convert much higher than a regular popup due to the micro commitment the visitor takes initially by clicking the link. It is not uncommon to see conversions as high as 70% using ConvertBox Links combined with a well crafted lead generation offer.
How to set a ConvertBox to open from a link
In the editor go to the "Display" tab and from the "Trigger" section select "Show if visitor clicks a link on my page".
This will provide you with a hash code like #cb5b502ab9 copy this code then save the changes to your ConvertBox.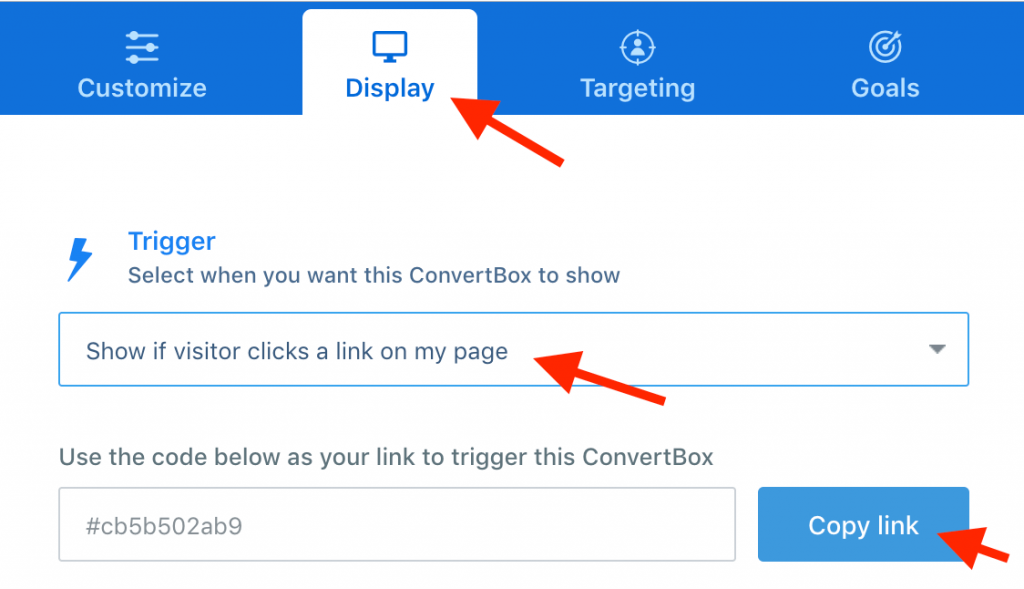 For the link on your page use the hash code and nothing else. Do not use any other urls or http protocols in your link or it will not work.
Why do I see a small delay if I reload the page and immediately click the link?

To understand why you may see a delay if you reload your page and immediately click the link, first we need to quickly explain how ConvertBox works with your site.
How ConvertBox works with your site
In order to track visitors and display the correct ConvertBoxes we load a small snippet of JavaScript code on your site. This script communicates with your account, checks your visitor rules and fetches the correct ConvertBox to show the visitor based on the rules you have set.
To ensure we have no impact on your site loading speed our script (and most other scripts on your site) loads asynchronously, this means your page content must load first before our script is then loaded and your ConvertBox is ready to display.
Our platforms runs on extremely fast servers located all over the world so once our script is called it generally takes a fraction of a second to check your account and fetch the correct ConvertBox to display. However a poorly optimised site with slow loading times will impact how long it takes for our script to load and ultimately get your ConvertBox ready to display.
If you reload your page and click the button immediately before your main page content has finished loading we register the click but have to wait until the page content has loaded fully before our script can call the ConvertBox from our server.
Recommended practice for ConvertBox Links
For the reasons mentioned above we recommend using link triggers inside your articles or blog content for content upgrades or signup forms rather than at the top of the page in the hero area as a main call to action.
Please keep in mind that a real world examples when a visitor arrives at your site they are browsing the page first for at least 2-3 seconds and unless the site is poorly optimised the page content and scripts will have fully loaded before they read your content and click a button to trigger the ConvertBox.
If your ConvertBox link is not working even after your page has loaded then please contact our friendly support team with the page url and the ConvertBox name so we can take a look what the issue might be.