Step 1: Adding your Shopify site to ConvertBox
Make sure that the site created inside your ConvertBox dashboard matches the domain of your shopify account.
If you're using a Shopify domain then your site will be mysite.myshopify.com
If you are using your own domain then your site will be mydomain.com
See this tutorial on how to add a site to your ConvertBox account
Step 2: Add ConvertBox's embed code to your Shopify site
Login to your Shopify account.
In the menu on the left select Online Store then Themes
On the right hand side of the theme window, go to the Actions drop down and select EDIT HTML/CSS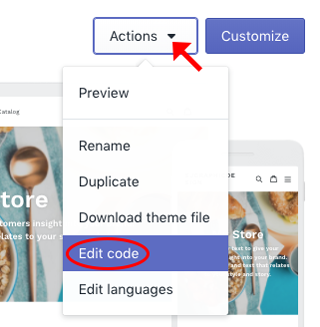 From the list of pages on the left select theme.liquid, (it's located under the Layout heading)
Scroll down to the bottom of the page, and just before the closing </body> tag, insert your ConvertBox embed code. Then press Save.
To locate your ConvertBox embed code see this tutorial.